Abbot Hall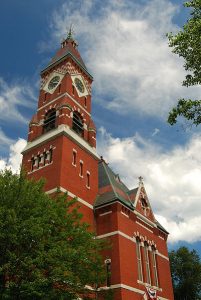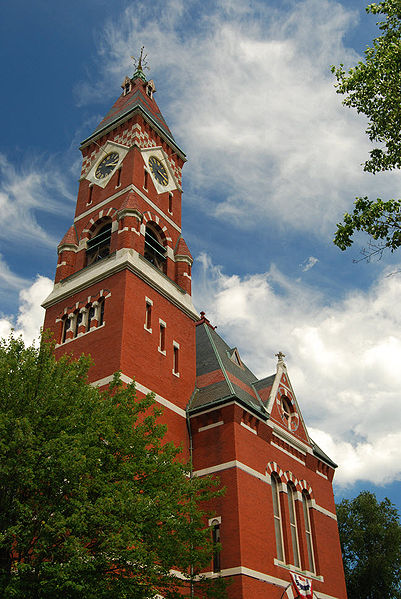 Historical Commission Offices Closed Mon. 9/23 through Mon. 9/30 Due to Construction. Office will be relocated to Maritime Room week of 9/30. The Maritime Museum will be closed until further notice
Abbot Hall Construction Impact – see sidebar —>
Note – Abbot Hall will not be open on Friday afternoons or weekends this year.
Abbot Hall is the seat of Marblehead Town Government and the center of Marblehead Historical Commission activity.  It houses the offices of the Historical Commission as well as several museums, artworks, documents, and artifacts. Abbot Hall, built in 1876/1877, has a rich history. It is located on Washington Square, formerly the Town Common. In 1872, Benjamin Abbot bequeathed funds to the Town to build Abbot Hall and the architectural firm of Lord and Fuller was commissioned to design the building. Abbot Hall was accepted as a listed property in the National Register of Historic Places in 1974.
Normal Abbot Hall business hours are:
Monday, Tuesday, and Thursday 8 AM – 5 PM
Wednesday 8 AM – 6 PM
Friday 8 AM – 12:30 PM
Seasonally (Memorial Day to approximately Columbus Day) the building is also open for visitors:
Friday 12:30 PM – 4:00 PM
Saturday 10:00 AM – 4:00 PM
Sunday Noon  – 4:00 PM
Abbot Hall is located at 188 Washington Street in Marblehead, MA  01945. Free, on-street parking is usually available for visitors. It can also be reached by MBTA bus via routes 441/442 and 448/449 that run from the Wonderland and Downtown Crossing T stations, respectively. It is a few blocks walk from the Pleasant St @ Rockaway bus stop. See the MBTA web site for more information:
http://www.mbta.com/uploadedFiles/Documents/Schedules_and_Maps/Bus/route441-449.pdf
Marblehead Historical Commission Offices
The Marblehead Historical Commission offices are located on the second floor of Abbot Hall. The Commission's Archivist Office, Volunteers' Office, Conference Room and Archives are open Monday – Friday 9:00 AM – 12:00 PM for researchers and other visitors. Since the Historical Commission staff is all volunteer, it is available by appointment or chance to assist researchers on the history of Marblehead or Marbleheaders – it is highly recommended to call ahead. Appointments may be arranged by calling or emailing the Historical Commission.
Contact:
Marblehead Historical Commission
Email Historical Commission
Abbot Hall
188 Washington Street
Marblehead, MA  01945
Phone: 781-639-3425
Selectmen's Room, Abbot Hall Displays, and Sign Museum
Abbot Hall is home to the Selectman's Room where the well-known painting, Spirit of '76 and the Town Deed are located. There are many historical displays in the first level hallways and stairways as well as in the auditorium on the second floor. The Sign Museum is located in the hallway on the lower level. For more information, see Selectmen's Room, Abbot Hall Displays and Sign Museum. These areas are open to the public at all times that Abbot Hall is open (see above).
Maritime Museum
The Maritime Museum, on the first floor of Abbot Hall, tells the story of Marblehead's naval history. For more information on the Maritime Museum, see Maritime Museum. The Maritime Museum is open whenever Abbot Hall is open, and is seasonally staffed with docents.
Gift Shop and Displays
The Gift Shop and Displays are located on the first floor of Abbot Hall.  For more information on the Gift Shop and Displays see Gift Shop and Displays. They are open from Memorial Day through Columbus Day and during Marblehead's Christmas Walk, depending on volunteer availability, as follows:
Monday – Friday 10:00 AM – 4:00 PM
Saturday 10:00 AM – 4:00 PM