Abbot Hall has a number of display cases – in the first floor hall and Gift Shop, on the stair landing to the auditorium and in the auditorium, and in the basement – which present objects and information about various aspects of Marblehead's history.There are also historical documents on display in the Selectmen's Room on the first floor.
On the first floor hall are display cases with photos and objects with information on:
Marblehead's fishing industry
Physicians in Marblehead, focusing on Dr. Franklin Ireson
Selected photographs of Marblehead
The 3 USS Marbleheads, with a focus on the most recent, the light cruiser CL-12

Ships bells from the second and third USS Marbleheads are also on display in the rotunda
The masthead light of the third USS Marblehead is on display in the rotunda

The USS Mugford, a destroyer named for a Marblehead naval hero
Miscellaneous archeological objects, sailing information and Marblehead ferry boats
The Marblehead Lighthouse (at Chandler Hovey Park on Marblehead Neck)
Various maritime items
Objects recovered from the waters off of Marblehead by author, diver and lobsterman Ray Bates
Marblehead's shoe industry
Brownies and Girl Scouts in Marblehead – Marblehead is home to the first Brownie troop in the United States, organized in 1916
Sebastian miniatures, created and made in Marblehead
Marblehead High School football
On the stairway landing are two display cases with:
Naval and Bunker Hill battle swords
Timbers taken from Marblehead's Old Town House during renovations in 2013
The Auditorium has displays of: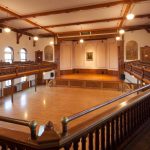 Marblehead related china
Weights and measures used by the Town Sealer of Weights and Measures
Ship models of a WW II LST and a Liberty Ship
Marblehead ferry boat wheel
Marblehead Forever plaque with the original words to the prohibition era Town Anthem
The Bicentennial Quilt, with 33 squares depicting Marblehead scenes and events. Click on this link to see an image of the quilt and the beautiful illustrated calligraphy book describing the quilt's squares.
The Selectmen's Room, in addition to its artwork, has framed copies of documents from:
George Washington to the Inhabitants of Marblehead regarding his visit of Oct. 29, 1789
Paul Revere letter of Nov. 5, 1787 to the Selectmen seeking to purchase surplus cannons
Elbridge Gerry letter of Sept. 19, 1774 to the Selectmen accepting appointment to the First Massachusetts Provincial Congress
March 4, 1784 Massachusetts Senate Resolve addressing Marblehead's tax situation, signed by John Hancock and Samuel Adams
The Gift Shop has display cases with:
Marblehead Pottery
Duck Decoys