Abbot Hall has a number of pieces of artwork on display – in the Selectmen's Room, on the first floor hall and in the auditorium. There is also artwork in some of the offices which requires advance appointment to view. Following is a listing of most of the artwork in Abbot Hall.
The Selectmen's Room:
The Spirit of 76, oil by Archibald Willard, given to the Town in 1880 by Marblehead native General John H. Devereux. Devereux's son was the model for the drummer boy.
Judge Joseph Story, print of original by Gilbert Stuart. Marblehead native Story was appointed to the US Supreme Court in 1811 and served until 1844. Given in memory of 2nd Lt. Duncan Balfour Sleigh, who died in Vietnam, by his family.
Washington Crossing the Delaware December 25th, 1776, oil copy of Thomas Sully painting by William T. Bartoll. The original hangs in the Boston MFA. General John Glover's Marblehead Regiment rowed Washington and his Army across the Delaware.
Washington Crossing the Delaware, copy by an unknown artist of an oil painting by Emanuel Leutze. Gift of Mr. and Mrs. Russell W. Knight in 1986.
General John Glover, oil by Henry Sutton in 1964. Marblehead native John Glover was a Revolutionary War hero who commanded Marblehead's famed "Glover's Regiment" and was a close confidant of Washington. Gift of Mr. and Mrs. Russell W. Knight.
Purchase of Marblehead, primitive by J. O. J. Frost This primitive art, by Marblehead native J. O. J. Frost, depicts the signing of the Deed for the Town of Marblehead by Squaw Sachem Ahawayet and her relatives. Anonymous gift.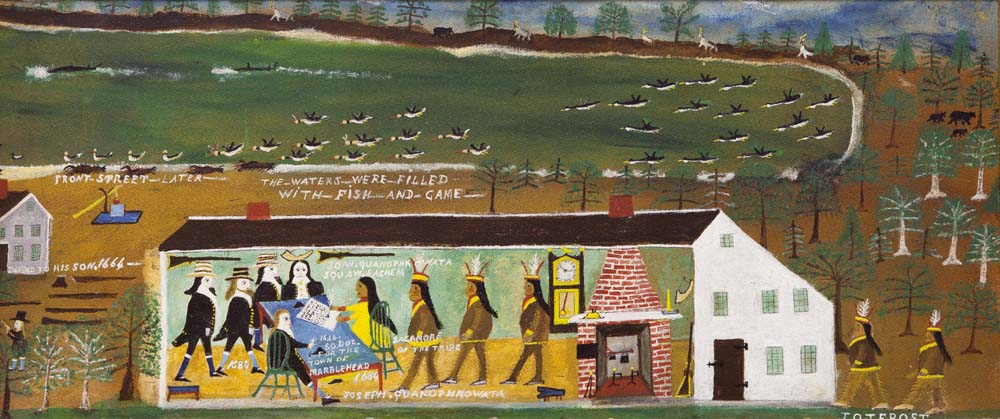 Crossing the Grand Banks, oil by W. E. Norton in 1876, donated to the Town by James J. H. Gregory in 1880.  Gregory was a well-known Marbleheader who owned a successful seed business. This painting gives a good view of what it would have been like for the many Marblehead fishermen who worked the Grand Banks in the 1800's
.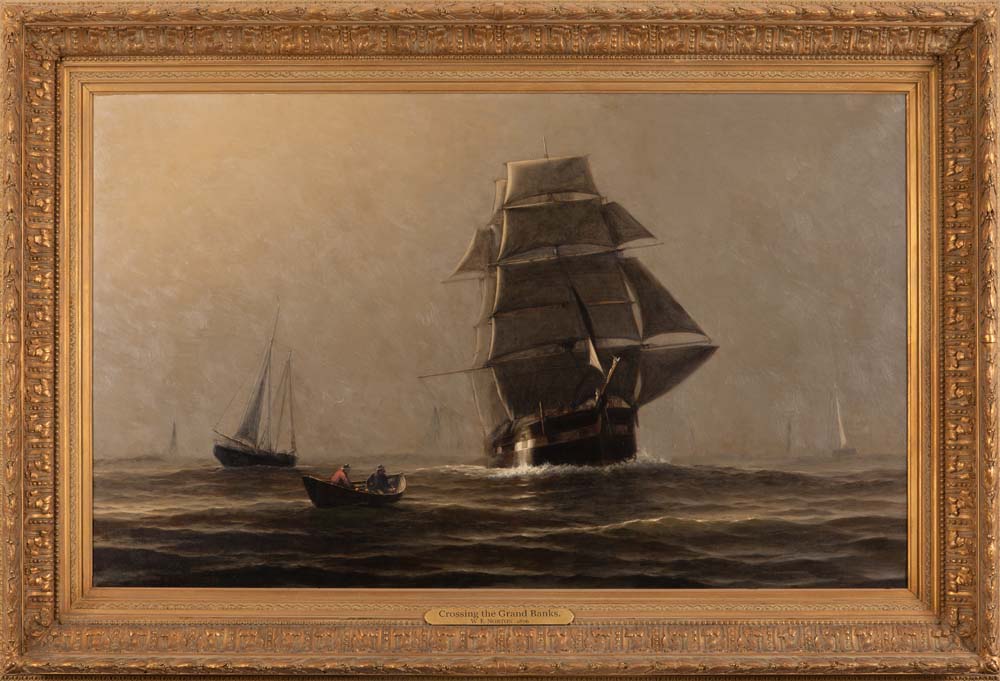 Captain John Bailey, pastel by unknown artist c. 1796. Bailey was a privateer during the Revolution, a merchant ship captain, Selectman, State Representative and commander of Fort Sewall during the War of 1812. Marblehead Historical Commission purchase.
Uriel Crocker, oil by Sir Hubert Herkomer in 1886. Crocker was a wealthy Marblehead native who donated the land for Crocker Park, the first public park in Marblehead. Gift of the Crocker family in 2011.
Archibald Willard, oil self-portrait of the painter of "the Spirit of 76". Gift of Mr. and Mrs. Philip Juvelis.
Elbridge Gerry, bust by unknown artist. Gerry was a Marbleheader who became Vice President of the United States in 1813.
Captain Jos. P. Snow on the Lucy E, oil by unknown artist in 1879. Gift of C. C. Beaman.
Captain Charles H. Snellen, bust by Amelia Peabody. Snellen was a Marblehead fisherman who served in the Civil War as 1st Gunners Mate on the ironclad Monitor.
In the first floor hall:
Twelve WPA murals of Marblehead people, events and scenes, by Arthur Kelley and T. S. Baker in 1934/1935.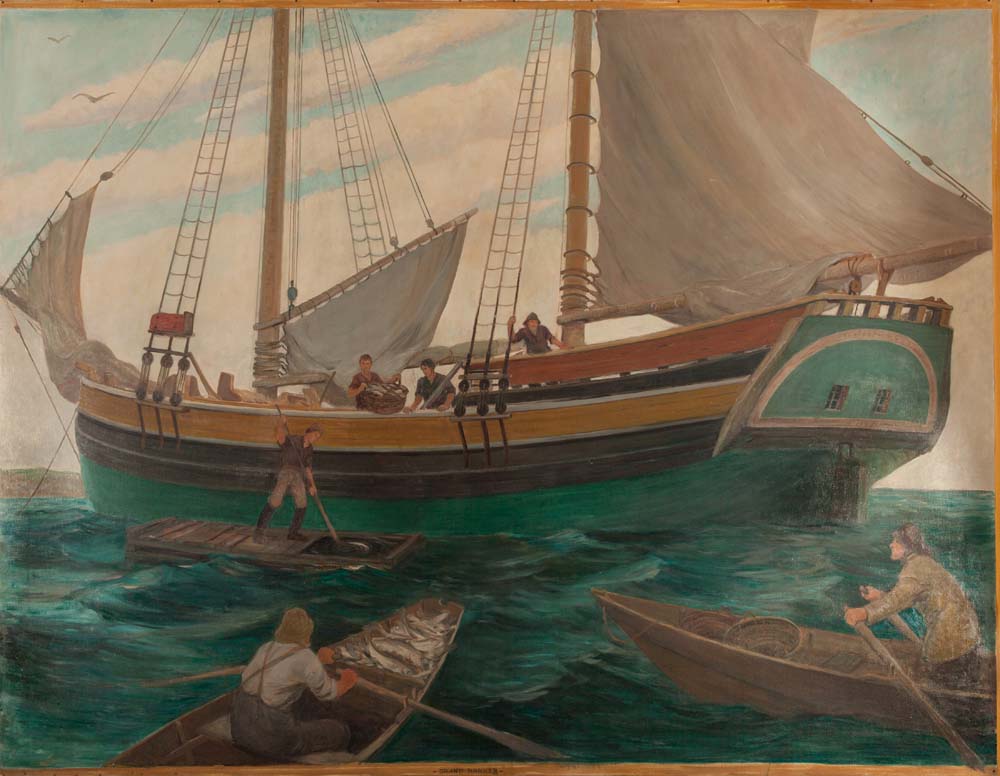 William the Silent (William of Orange), oil by Claudius Jacquand. Donated to the Town by Marblehead native James J. H. Gregory in 1879. Gregory was a member of the Abbot Hall building committee.
General John Devereux, oil by Otto Henry Bacher in 1898. Devereux is a Marblehead native who gave "The Spirit of 76" painting to the Town.
Schooner Hannah, watercolor by John F. Leavitt. The Hannah, a Marblehead owned and manned fishing schooner, was the first ship in the American Navy.
Map of Marblehead, hooked rug made from military uniforms by Lillian Bailey.
On the stairway landing:
Stained glass windows, original to the building, restored in 2009 – 2010 by the Historical Commission with funding from the Shattuck Fund.
Landing of the Pilgrims, plaster bas relief by A. Losi, made by Boston Sculpture Co.
Cantoria panels, plaster copies of sections of the Luca Della Robbia original for Florence's Duomo choir gallery. Made by P. P. Caproni & Bros., of Boston.
In the Auditorium:
Pedrick's/Tucker's Wharf 1864, Giclee copy of original oil, gift of Corinthian Yacht Club in 2014
Wallace Dana Weed, Marblehead's Poet Postman, oil by Orlando Rouland. Gift of Jane Finigan and family in 2009. Weed, a Marblehead native, was well known for his poems which were published frequently in the Marblehead Messenger.
USS Constitution and the Guerriere, oil by E. F. Lincoln, c. 1900. Gift of the Spiess family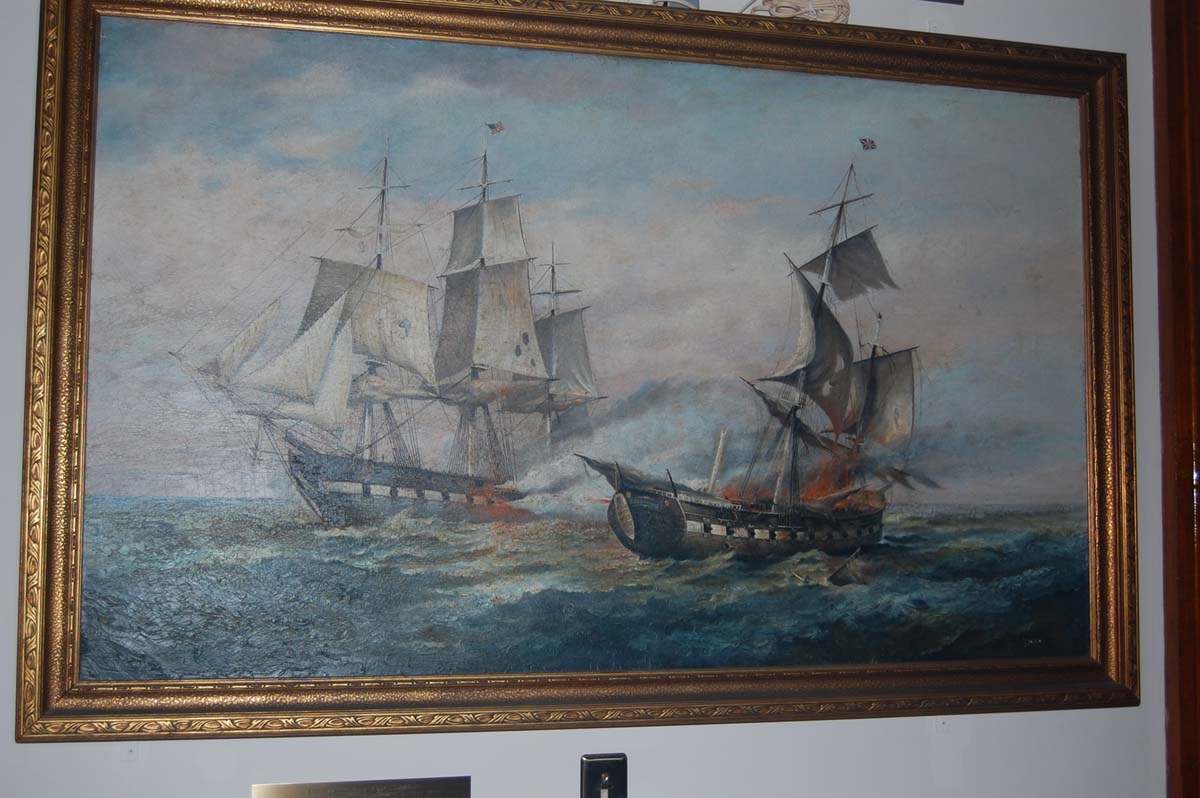 Archibald Willard, oil by Frank H. Tompkins, c. 1915. Gift of F. J. Flanagan
William Reed, oil by unknown artist. Gift of Mrs. Margaret Fearey Barnes Dyer in 2013. Reed was a Marblehead native who became a wealthy merchant, renowned Federalist and US Representative.
General John Glover, oil by Anthony Ayres Iarrobino.
Admiral de Grasse 1722 – 1788, bust by unknown sculptor. Given to Marblehead by sister city Grasse, France in 1986.
Marblehead Bicentennial Quilt. 33 squares showing Marblehead scenes created by Marblehead women in 1976. Click on this link to see an image of the quilt and the beautiful illustrated calligraphy book describing the quilt's squares.