A Walk Through Historic Marblehead
Marblehead has many historic places, and the best way to reach most of them is a walking tour.  A self-guided walking tour of downtown Marblehead was created by Judy Anderson and funded by the Marblehead Historical Commission and the Marblehead Chamber of Commerce. It highlights 19 historic places in Marblehead and includes both photographs and a brief history of each. You can either download the PDF version here or stop by Abbot Hall to pick up a paper copy.
Some highlighted historic places are listed below, followed by a list of those properties registered with the National Register of Historic Buildings and Sites.
Powder House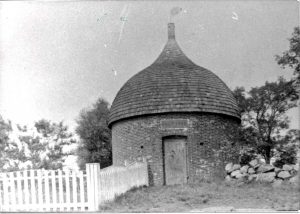 The Powder House on Green Street, then known as Ferry Road, was built in 1755 to provide storage for muskets and ammunition. One of only three pre-Revolutionary powder houses in the country still standing, Marblehead's is a unique circular structure built out of brick. It was used for powder storage during the French and Indian War, the Revolutionary Warand the War of 1812.
Powder House is not open to the public, but may be seen on Green St. near the intersection with Lattimer St.
Jeremiah Lee Mansion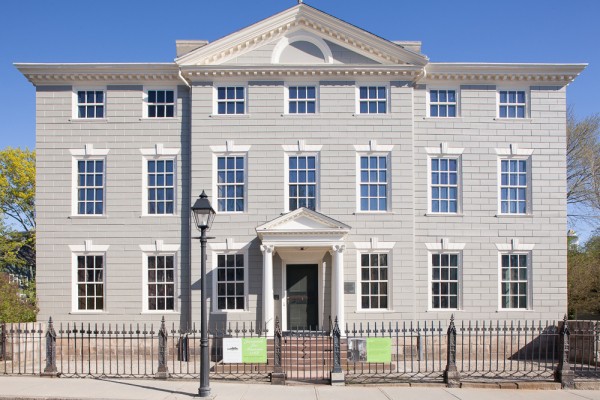 The Jeremiah Lee Mansion is a historic house located at 171 Washington St. Built in 1768 as a home for Marblehead's Jeremiah Lee, a wealthy merchant in colonial Massachusetts, the house is now owned and maintained by the Marblehead Museum. It has been fully restored and tours are available for a small fee. For more information on the Jeremiah Lee Mansion, see: http://www.marbleheadmuseum.org/properties/lee-mansion/
Old Town House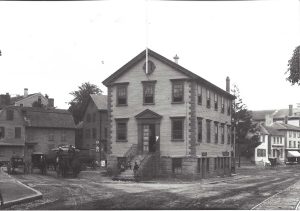 The Old Town House, built in 1727, is often referred to as "Marblehead's Cradle of Liberty" for the many pre-revolutionary war meetings held there. It is one of the oldest town halls in America that has been in continuous use. It is located in Market Square at the intersection of Washington and State streets. The second floor of the Old Town House is home for the Civil War and GAR Museum  and the lower level houses the Police Museum. For more information, see information on the Civil War and GAR Museum and Police Museum.
Old Burial Hill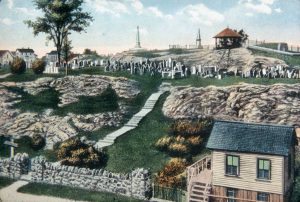 Old Burial Hill was the site of Marblehead's first "meeting house" or place of worship and was established in 1638. The graveyard has around 650 marked graves, many with carvings and inscriptions. The oldest dated stone is from 1681.  Though not all are marked, six hundred Marblehead Revolutionary War soldiers are buried in Old Burial Hill. These include General John Glover, Marblehead's greatest Revolutionary War hero, who died in 1797.  An obelisk commemorating another Revolutionary War hero, Captain James Mugford and the crew of his schooner, the Franklin, was first erected in 1826 and moved to Old Burial Hill in 1876.  A second obelisk, the Fishermen's Monument, was erected in 1848 to commemorate the  65 fishermen who were lost during the hurricane of 1846, leaving "43 Widows [and] 155 Fatherless Children." Other notables in Old Burial Hill include: four ministers of the First Congregational Church in "Parson's Row", Joseph Brown, "Marblehead's Black Joe" after whom Black Joe's Pond is named, and Wilmot "Mammy" Redd, the only Marblehead citizen executed for witchcraft during the Salem Witchcraft Trials. Old Burial Hill is located next to Redd's Pond, with access from Orne Street. The Old Burial Hill Archives contains images and information on most of the gravesites - access this site here.
Fort Sewall
The earthwork fort at present day Fort Sewall was originally established in 1644 by a grant from the provincial government on land called Gale's Head.  It helped defend Marblehead's fishing fleet against pirates, the French, and the Dutch.  It was actively manned during the French and Indian War and the Revolutionary War; and, was then ceded to the newly formed federal government, which enlarged and improved the fortifications. It was restored again during the Civil War in 1863, and a planned restoration in 1898 which was cut short by the quick end of the Spanish American War.  Originally known as Gale's Head Fort, it was renamed Fort Sewall in 1814 in honor of Marblehead native and Massachusetts Supreme Court Justice Samuel Sewall. The Fort's greatest moment in history occurred on Sunday, April 3, 1814, when the U.S. Navy's Constitution, "Old Ironsides," was chased by two British frigates and escaped into Marblehead Harbor under the protection of the fort's guns. "Old Ironsides" has visited Marblehead twice since then: in 1931 during a fundraising tour for her preservation, and again in 1997 for the ship's Bicentennial celebration. The "Fort" was returned to the town by the federal government in 1922, and it still contains bunkers and underground rooms once used to house soldiers and to detain prisoners. It is now a peaceful park offering some of the best views of Marblehead Harbor. Fort Sewall is located at the very end of Front Street and has restroom facilities which are open seasonally.
Fountain Park
Fountain Park, at one time known as Bailey's Head, was the site of a fort during the Revolutionary War and later the War of 1812 when it was called Fort Washington. The land was donated to the inhabitants of Marblehead by James J.H. Gregory in 1888. Fountain Park is located on Orne Street, opposite Old Burial Hill.
Marblehead Light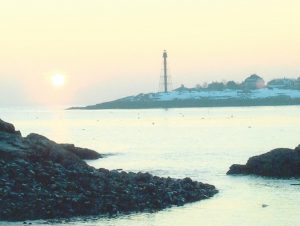 The first Marblehead lighthouse was a white stone lighthouse built in 1835. The lighthouse was only 23 feet tall, so when large houses were built on Marblehead Neck, the lighthouse was no longer visible. Recognizing its importance to maritime navigation, the Federal Government had the original lighthouse demolished, and in its place, a 105 foot iron skeleton tower was built and first lit in 1896.
Marblehead Light stands in Chandler Hovey Park, also known as Lighthouse Point, which is located at the end of Follett Street, off Ocean Avenue on Marblehead Neck. The 3.74 acre park overlooks the mouth of the harbor and the shorelines of Beverly and Manchester-By-The-Sea and offers pavilions, benches, picnic tables, restrooms, swimming and parking. Originally owned by the U.S. government, it was purchased in 1948 by Marblehead resident Chandler Hovey, who donated it to the town.
Marblehead National Register Buildings and Sites
| | | | |
| --- | --- | --- | --- |
| Reference Number | Resource Name | Address | Date Listed |
| 72001101 | Glover, Gen. John, House | 11 Glover St. | 11/28/1972 |
| 73000304 | Gerry, Elbridge, House | 44 Washington St. | 7/2/1973 |
| 76000264 | Hooper, Robert "King", Mansion | 8 Hooper St. | 5/12/1976 |
| 76000265 | Old Town House | Town House Sq. | 8/13/1976 |
| 73000305 | St. Michael's Church | 26 Pleasant St. | 6/18/1973 |
| 75001908 | Fort Sewall | Fort Sewall Promontory | 4/14/1975 |
| 74000374 | Abbot Hall | Washington Sq. | 9/6/1974 |
| 66000766 | Lee, Jeremiah, House | Washington St. | 10/15/1966 |
| 84002402 | Marblehead Historic District | Roughly bounded by Marblehead Harbor, Waldron Court, Essex, Elm, Pond, and Norman Sts. | 1/10/1984 |
| 86000378 | Story Grammar School | 140 Elm St. | 3/13/1986 |
| 87001479 | Marblehead Light | Marblehead Neck | 6/15/1987 |
| 90000241 | Harris Farm | 3 Manataug Trail | 3/9/1990 |
| 11000333 | Seaside Park | Atlantic Ave. | 6/8/2011 |
| 08000887 | JOFFRE, (shipwreck) | Address Restricted | 1/16/2009 |