Abbot Hall, an iconic and stately Romanesque brick edifice, is the town hall located at 188 Washington Street, Marblehead, Massachusetts.
In addition to town offices for the Selectmen, the Town clerk and the Historical Commission, the building contains the highly popular Spirit of 76 painting, the original 1684 Town Deed, a Maritime Museum, Sign Museum, numerous displays and artwork related to the Town, and a Gift Shop.
It is open year-round, including weekends during the tourist season – Memorial Day through October 21. (Abbot Hall open hours )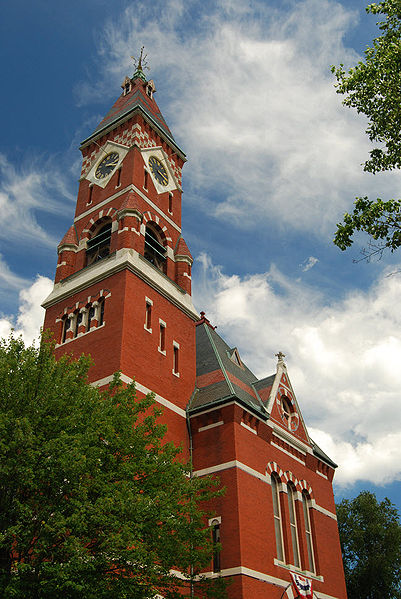 Abbot Hall History
In 1872, Marblehead native Benjamin Abbot passed away, bequeathing $103,000 to the Town. His will stated that "…it is my desire that a building shall be erected for the benefit of the inhabitants of said town; but I do not intend to limit the use of the legacy to that purpose or to impose conditions which would prevent the use of it for such other general objects as the citizens of said town may determine upon in their discretion." After considerable controversy, in May of 1875 Town Meeting voted to "erect a public building of brick with stone trimmings, to be designated as Abbot Hall, of such dimensions as will secure an audience hall that will seat at least twelve hundred persons; a hall for a public library and reading room", a fire proof vault for the storage and security of the records, and rooms for the use of the various boards of town officers. It was voted to place the building on the Town Common on Washington Street. A subsequent Town Meeting in December, 1875, voted to appropriate $75,000 from Benjamin Abbot's bequest to erect the building.
The building was designed by the Boston architectural firm of Lord and Fuller. Construction of Abbot Hall began in the spring of 1876 and was completed at the end of 1877. A dedication ceremony was held on Dec. 12, 1877. The bell and clock for the tower were donated by James J. H. Gregory, well-known Marblehead seed merchant. A number of pieces of art were also donated to be hung in the building. Abbot Public Library opened in the spring of 1878, located in the present-day Selectmen's Room and several other rooms in the building.
Because of its large auditorium, the building has been used for town meetings and other public meetings, public performances and events.
Within Abbot Hall
Inside Abbot Hall Video Tour
Take a virtual tour of Abbot Hall with your guide, Chris Johnston, Chairman of the Marblehead Historical Commission.  Learn more about Benjamin Abbot's gift to Marblehead and some of the special features of this historic building that you may not have noticed before.  Inside Abbot Hall was created by Jenna Comins-Addis and has been posted on the Marblehead Historical Commission's new YouTube channel.  Take the tour!