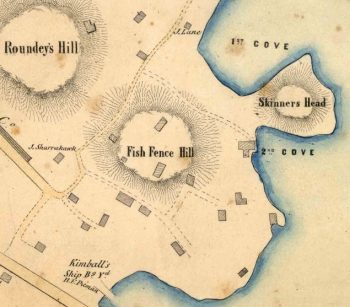 Thursday June 23 at 7:00 pm
Join Marblehead Historical Commissioners Pam Peterson, Chris Johnston and David Krathwohl to learn about Marblehead's 19th history through maps on Thursday, June 23 at 7:00 pm. The Marblehead Museum will host the presentation via Zoom. Register at marbleheadmuseum.org to receive the link to the free lecture.
Marblehead is a town that is unusually rich in history. The19th century was a time of tremendous change. The War of 1812, the Civil War and the rise of tourism all shaped the century. Maps from the 19th century set the framework for the town and its development.
The presentation will recap the highlights of the exhibit presented by the Marblehead Historical Commission at the Old Town House in 2020.  The next exhibit, Mapping Marblehead: the 20th century and beyond, will open on July 8th   at the Old Town House. Descriptive panels, artifacts, and interactive computer maps will illustrate Marblehead's growth. Oral histories from 20th century Marblehead remind us of where we were and where we are going in the 21st century and beyond.