Can't find an item on our Abbot Hall Scavenger Hunt?  See the answers and learn more about the objects below.
A golden cod
Location: First floor hall
The golden cod adorning the facades of many Marblehead homes pays tribute to the town's historical connection to the fishing trade. In Marblehead and elsewhere in New England, cod played a particularly important role in the economy of the 17th and 18th centuries.
A letter from George Washington
Location: Select Board Room
President George Washington and Marquis de Lafayette visited Marblehead in 1789 to thank the town for its Revolutionary War sacrifices. Washington especially wanted to visit retired General John Glover, now a selectman, who led the crowds of people welcoming the President. In his message of thanks to Marblehead, Washington wrote, "Your attachment to the Constitution of the United States is worthy of men, who fought and bled for freedom, and know its value."
The original town deed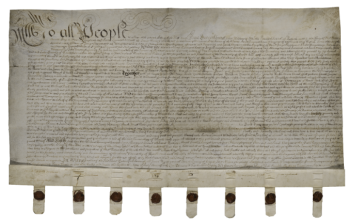 Location: Select Board Room
Handwritten in iron gall ink on parchment, the Town Deed is the original 1684 deed of purchase for the town's land from the Naumkeag tribe for 16 British pounds (approximately $80 in today's dollars). It is said that the deed was discovered in a house in Natick, MA, and was donated to the town. In 2004, Marblehead's fourth-grade students raised funds to properly frame the deed.
A map of Marblehead for your floor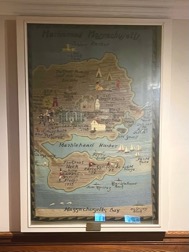 Location: First floor hall
This hooked rug was made by Lillian Bailey of Marblehead. The project involved 1,000 hours of work, and Army and Navy uniforms from World War II veterans were used to create its borders.
Bottles of long-expired medicine
Location: First floor hall
Physician Franklin Ireson, born in Marblehead in 1881, prescribed these remedies to ailing locals during his long career.
The Spirit of '76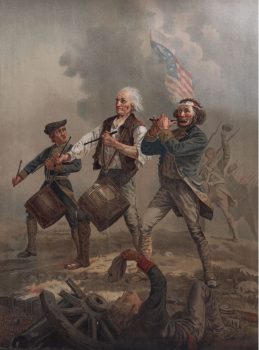 Location: Select Board Room
The Spirit of '76, originally titled Yankee Doodle, was painted by Archibald M. Willard of Cleveland, Ohio, for exhibit in Philadelphia during the 1876 centennial celebrations. Although Willard subsequently created a number of copies of the painting, this is the original. In 1880, General John H. Devereux (whose son was the model for the drummer boy) bought the painting and donated it to the Town of Marblehead to be "erected in Abbot Hall to the memory of the brave men of Marblehead who have died in battle on sea and land for their country."
A giant bust of Elbridge Gerry
Location: Select Board Room
Born in Marblehead in 1744, Elbridge Gerry was an influential figure in his hometown and on the national stage. Before becoming the fifth vice president of the United States, he played a significant role in Marblehead's local and political scene, particularly during the Revolutionary period. Gerry was a signer of the Declaration of Independence.
Missing parts from an unlucky whale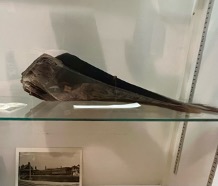 Location: First floor hall
While other towns participated more actively in the whaling industry, there are two recorded whaling voyages that set out from Marblehead, according to local author Eric Jay Dolin. They took place in the 1820s and 1830s.
Two small seaplanes
Location: Maritime Museum
Marblehead has a long and storied naval history, starting with its role in the birth of the American Navy. It was also home to early aviation pioneer William Starling Burgess's shipyard and factory, where workers built airplanes, seaplanes, hydroplanes, and flying boats between 1910 and 1918. The first naval maritime flight took place over Marblehead Harbor in 1912.
A World War II spyglass
Location: First floor hall
This U.S. Navy spyglass dates back to 1942. Telescopes like these were used on warships to detect enemy fire.
Shoes worn by little 'Headers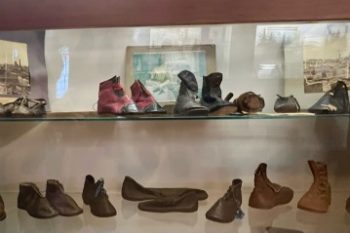 Location: First floor hall
Marblehead's early history was formed by the shoe industry almost as much as it was by its fishing fleet and revolutionary spirit. Between voyages, many fishermen would craft shoes in small shops known as "ten-footers." In the 1800s, the town would become a major shoe manufacturing hub for women's and children's shoes.
Ship's bells from 2 USS Marbleheads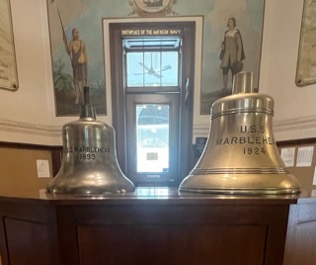 Location: Rotunda
Three different U.S. Navy ships have been named USS Marblehead. The first, launched in 1861, was a gunboat that served in the American Civil War. The second, launched in 1892, served in the Spanish-American War. The third, launched in 1923, served in World War II. The bells of the second and third USS Marbleheads are on display in Abbot Hall.
7 singers sharing a book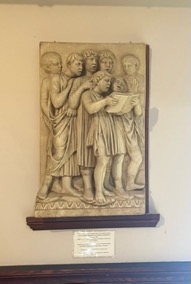 Location: Stairway landing
This is a plaster copy of a panel from the "cantoria," or singers' gallery, in Florence's Duomo, created by sculptor Luca Della Robbia. The copy dates back to the early 19th century and was moved from Marblehead's high school to Abbot Hall in 2002, along with two other plaster panels.
A patchwork of Marblehead scenes
Location: Autorium
The Bicentennial Quilt was created in 1976 by a group of Marblehead women to help celebrate the nation's 200th anniversary.
The steering wheel of a 19th-century ferry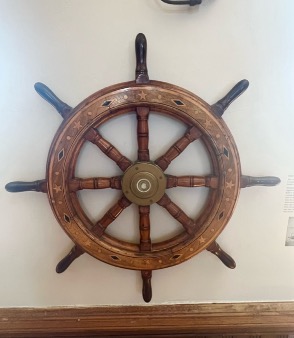 Location: Auditorium
Marblehead ferry boats began operating in the 19th century, and were used to carry passengers across Marblehead Harbor from the town to Marblehead Neck until the 1960s.
A legendary Marblehead doctor's sleigh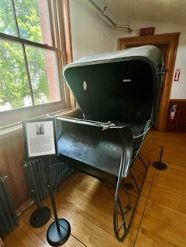 Location: Auditorium
Dr. Perley Sanborn was a beloved Marblehead doctor, serving the town for over 61 years from the late 1800s to early 1900s. He delivered more than 2,800 Marblehead babies during his career. In the winter, he would use this sleigh to travel to house calls.