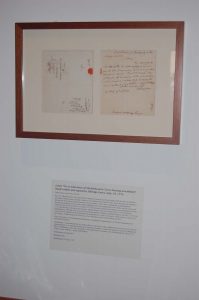 The Marblehead Historical Commission has installed archival quality copies of four key historical documents related to Marblehead in the Selectmen's Room in Abbot Hall.
The documents are signed letters from Paul Revere (1787), president George Washington (1789) and Elbridge Gerry (1769) as well as a Massachusetts General Court Resolution (1784) signed by governor John Hancock and state Senate president Samuel Adams.
The Historical Commission recently restored, digitized and copied these documents at the Northeast Document Conservation Center, with cooperation from Town Clerk Robin Michaud.
Washington's Nov. 1, 1789 letter "To the Inhabitants of the Town of Marblehead" was written days after he visited Marblehead during a month long New England tour. Marblehead was not on the president's itinerary, yet he insisted on visiting the hometown of his trusted General, John Glover, before landing in Salem.
Paul Revere's letter was discovered by former Commission Collections Manager Wayne Butler in 2009 hidden away in a file cabinet in the basement of Abbot Hall and long forgotten. Revere's letter was an attempt to purchase old cannons belonging to the Town for use in his new foundry in Boston.
Elbridge Gerry's letter was written to the Selectmen accepting a Town Meeting appointment to the Massachusetts Provincial Congress. It was obviously written quickly and is almost a scrawl. It was also found in the Abbot Hall basement files.
The Massachusetts General Court Resolution was signed by both signed by John Hancock and Samuel Adams and dealt with Marblehead's longstanding poverty issues and back taxes owed but the Collector of Taxes, but withheld taxes from the Selectmen, who required the funds to fulfill their duties as "Overseers of the Poor."