The Sign Museum is closed during Abbot Hall construction.
As businesses in Marblehead have come and gone over the years, the visual landmarks that represented those businesses — their well-known signs — have disappeared from view. These signs help explain the cultural history of Marblehead in the 19th and 20th centuries. Fortunately, many of these signs have been preserved in the Sign Museum located in the lower level of Abbot Hall. Here you'll find more than 25 shop, business and public building signs from both the downtown (historic district) and uptown (Atlantic Ave. and Pleasant St.) business areas. There are also a number of larger scale artifacts from Marblehead.
One example is the Shepard Pharmacy sign, originally located at 98 Washington Street, across from the Town House, as shown in this earlier postcard.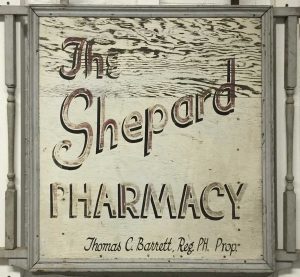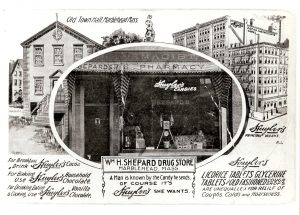 The Sign Museum also includes informational signs and advertisements from Marblehead's past.
For opening hours, see Visit Us